Sensational Seniors Expo was a smash hit!
Port Macquarie Taxis enjoyed sharing information on senior passenger transport at the Sensational Seniors Expo @ Port Macquarie Panthers on Monday 6th March 2017.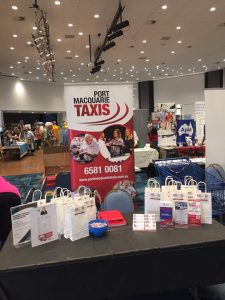 Our main focus was to create awareness around booking and vehicle options, with a particular emphasis on promoting the Taxi Transport Subsidy Scheme which is a NSW Government initiative that assists residents of NSW who are unable to use public transport because of a qualifying severe and permanent disability.
The Scheme subsidises the travel cost of approved applicants, allowing them to travel at half fare. More information about the Taxi Transport Subsidy Scheme can be found here.
Check out the Boxing Mayor and more photos on our Facebook Page