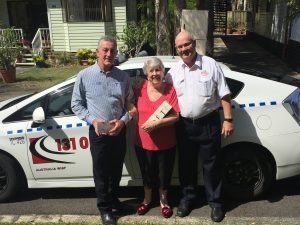 A little bit of history for taxi service
Port Macquarie Taxis has notched up a major milestone with long term customer Maureen Elizabeth Howie booking the one millionth journey with the business.
Mrs Howie has been a 10 year customer with the company and received a special pamper gift and bottle of champagne to celebrate the event.
Maureen and her husband Gordon, discovered Port Macquarie on a caravanning holiday and chose to retire here from Tasmania in 1992.
Due to an unfortunate turn in Gordon's health and Maureen's inability to drive, the couple become regular taxis users from 2007 for their outings and medical appointments.
Sadly Gordon passed away in 2012 and Maureen has since been battling a rare inoperable lung cancer that requires her to travel up to four times a week in a taxi for treatment locally.
Maureen says she has built a close relationship with the local dispatch team and her regular drivers over many years.
"The kind and reliable service I receive when I call to book my taxi is so appreciated," she said.
"The drivers are always very happy to have a chat, caring as they help me to and from the car and see me safely to my door with my bags."
General manager Steve Read said the team at Port Macquarie Taxis have been inspired by Maureen's positive spirit and determination, and look forward to seeing her achieve her goal of travelling to Tasmania in February next year for her beloved mother's 100th birthday.
Mr Read said the milestone was recorded since implementing their state of the art Smart Move dispatch and tracking system in September 2013.
"The upgrade to in-car touch units has provided drivers with a central booking, meter and tracking system that utilises mobile technology to enable an improved efficiency for our customers and overall management of our fleet," he said.
For information about specialised passenger bookings or the Taxi Transport Subsidy Scheme visit – www.portmacquarietaxis.com.au or call 6581 0081 during business hours.
Port Macquarie News – 15th March 2017